My Credentials
ISSA Master Trainer
The ISSA Master Trainer credential is awarded only to distinguished ISSA Certified Trainers who have proven their competence in personal training and developed expertise in five additional areas of concentration through specialization certifications. This esteemed knowledge means personalized programs and targeted results for any type of client.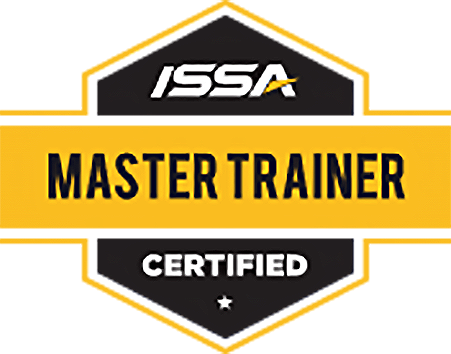 ISSA Certified Yoga Instructor
ISSA Corrective Exercise Specialist
Whether you sit for long periods of time, are a weekend warrior, or fall somewhere in-between, it is quite likely that you may have a movement deficiency that is causing suboptimal physical performance and increased physical pain. As a specialist certified in corrective exercise, I can perform movement assessments, make referrals to medical professionals when necessary, and incorporate appropriate strategies into your training program to help you correct movement dysfunctions and muscle imbalances. Ultimately, this will lead to improved physical performance and reduced physical pain.
ISSA Certified Fitness Trainer
It's no secret - fitness training has been proven to prevent disease, strengthen your health and improve your confidence and outlook on life. As a certified fitness trainer, I'm deeply trained in everything from muscle mechanics to flexibility and cardiovascular dynamics. So if you want to live a stronger and more confident life, I've got the training and the expertise to help you every step of the way.
ISSA Certified Kickboxing Instructor
ISSA Specialist in Sports Nutrition
A good exercise program is only half the story. Equally important is proper nutrition. Synthesizing a cutting-edge, scientifically sound diet and nutrition regimen will radically increase the effectiveness of your exercise training sessions. As a certified specialist in this area, I can help you reach your performance goals faster than you'd previously imagined possible.
ANIMAL FLOW® Certified L1 Instructor
Animal flow is a ground-based movement system created by Mike Fitch of Global Bodyweight Training. This system requires no equipment and uses animal-inspired movements to challenge and develop strength, stability, balance, coordination, body awareness, and functional mobility in a fun and dynamic way.
To learn more about the Animal Flow® system, visit the official website:
https://animalflow.com
ISSA Online Coach Certification
NCCPT Certified Yoga Instructor
Nationally accredited yoga instructor through the U.S.A. based National Counsel for Certified Personal Trainers.
XPT Performance Breathing Coach
A comprehensive breathing coach certification through XPT (Extreme Performance Training) to support clients' health, well-being, and athletic performance.